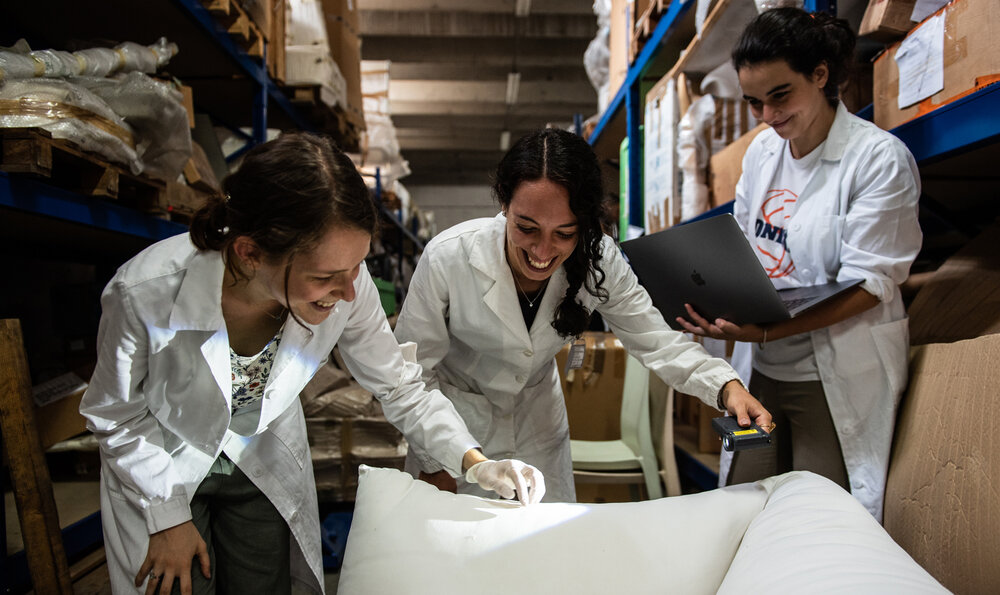 THE GALLI ACADEMY SIGNS A PARTNERSHIP WITH THE ADI DESIGN MUSEUM COMPASSO D'ORO
A three-year partnership for the cataloguing, maintenance and restoration of Compasso d'Oro works
The protection of cultural heritage, which has always been the focus of Fondazione ADI, combines with the mission of Istituto Europeo di Design and the Aldo Galli Academy, which have been transmitting the culture of Italian design around the world to generations of designers.
The Aldo Galli Academy of Fine Arts in Como is carrying out a series of activities inherent and transversal to contemporary restoration, ranging from the cataloguing of the 3,000 works in the Compasso d'Oro collection, to the drafting of related condition reports, to the actual restoration of some artefacts. The students of the Restoration Course have been working on condition reports of the works in the Museum since July 2020. 2000 objects have been catalogued, including Kartell's iconic yellow sofa designed by Philippe Starck, Luceplan's Lola lamp, the Necchi sewing machine by designer Marcello Nizzioli, Zanotta's Sacco Armchair and the Pininfarina Research aerodynamic model. This is a multidisciplinary activity that the Academy will continue using a laboratory space that will be reserved inside the Museum where students will be able to carry out conservation and study activities.
Museology, conservation and restoration of contemporary art, methodology for the handling of works of art, restoration of artefacts made of processed synthetic materials, communication and valorisation of archival heritage are some of the subjects that are analysed within the workshop.
FOCUS: ACTIVITIES CARRIED OUT BY THE RESTORATION COURSE STUDENTS
Writing Condition Reports
Each work is accompanied by a document that identifies its state of conservation (known as a condition report) based on an analysis of the constituent materials. The fourth and fifth year students of the restoration course at the Aldo Galli Academy of Fine Arts produce all the condition reports of the works in the ADI Museum. This is a multidisciplinary activity - the first step is the analysis of the photographic documentation, the second the study of the state of preservation and the related filing of technical data, the third the recognition of all the restoration work carried out - which requires a great deal of time and technical expertise. The report must be up-to-date and easy to consult as well as comparable when the works are transferred. The Academy started working on this in 2020.
Restoration of Works
With the support of their lecturers, students from the Academy were also involved in the restoration of some of the works on display in the newly created ADI Museum over the last year. The main interventions included the cleaning of the surfaces of the works. This was carried out by hand with small cotton balls soaked in a watery solution, the "localised consolidation" of the artefacts, obtained by injections and small brush strokes of reinforcing substances and "precise fixings" with liquid adhesives and consolidating agents. Structural (plastering operation) and pictorial additions were also carried out.
You may be interested in: