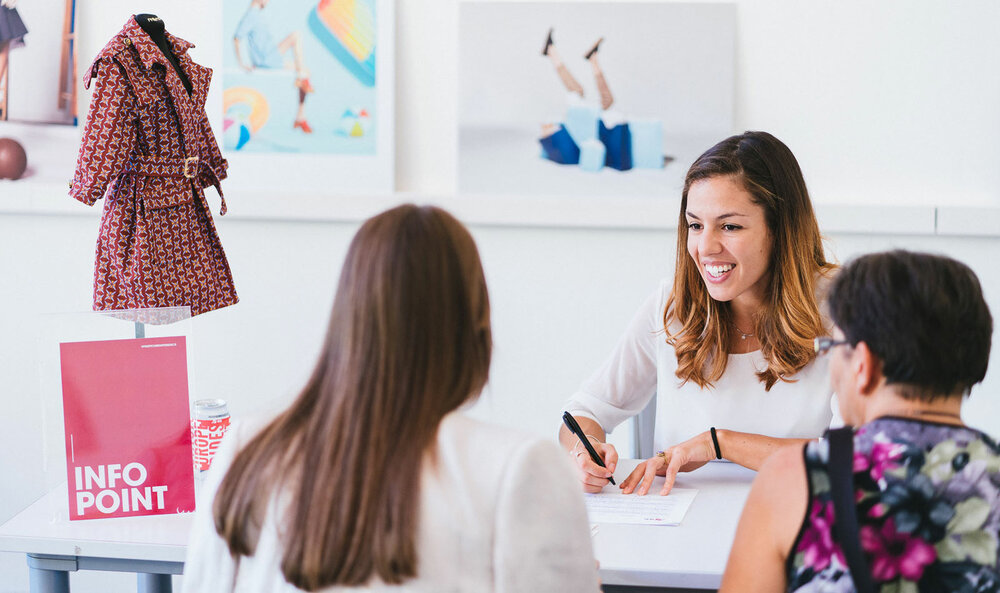 Joining Accademia Galli also means joining the IED-Network world and making the most of it, with full support from qualified assistants and the opportunity to access specific learning, project design and social facilities. Other relevant services are also available on a pre- and post-registration basis. These include helping students find their way in their new city and get prepared to move into the world of work.
This is a first-line contact service. Anyone wishing to enrol in or just learn more about Accademia Galli can arrange an interview with an Admission Advisor, who will be there to share more details on the different specialisation tracks available at the school and provide advice on future career opportunities. Students will receive information on how training is organised, on contents covered and course focus, on admission and selection process, based on their own personal interests and background.
It works closely with the School Office to assist all students, whether from Italy or abroad. It promotes sharing and integration into the socio-cultural city environment as a way to enhance your learning experience.
This is the information system for academic teaching management, providing students, lecturers and staff with a public channel for sharing information and relevant documents. All members have access to an on-line space where they can view notices, class schedules, course materials, study plans and any information available about current academic careers.
It takes care of academic matters in terms of methods, structure, and content. Students can come here to seek support in achieving teaching objectives, progress reporting, follow-ups and reviews.
IED Network has agreements with local businesses to provide students with discounts on the purchase of a wide range of products and services. Examples include providers of work tools, leisure, culture and wellness facilities. Other agreements are also offered with a number of language centres and schools, such as Centro Studi Italiano and My English School.
Through agreements with various accommodation providers, Accademia Galli can support students as they search for the best accommodation options to suit their personal needs. The list of accommodation providers and terms of access are shared with enrolled students at the beginning of each year. Student accommodation available for the academic year 2021/2022 include:
Residenza Prandoni Hall of Residence – La Residenza, via Anzani 9 Como

Dovevivo Campus Como (Residenza terzo millennio) – RTM Living, Via Pannilani 17 Como

Ostello Bello Como, Viale Fratelli Rosselli, 9 Como

La Presentazione Como, via Zezio 58 Como
Accademia Galli supports all students as they prepare to take their first steps into the world of work. A strong network of companies, professional studios and creative agencies connects supply and demand for jobs in the creative and design industry, assisting new graduates in their search for internships and other types of career opportunities. In addition to work placement opportunities as part of the study plan, the Academy can also provide a number of extra-curricular internships as a result of a cooperation with Synergie.
A network of 120,000 Alumni operating in more than 130 countries across the world has been created to encourage open interaction on a dedicated web portal, accessible to both former students and Accademia Galli as part of the IED Network. The idea is to keep in touch with a creative, cultural and business community, where all members can share their experiences and enhance the value of the network itself by posting job offers and cultural initiatives, specifically intended for the community.
Two representative bodies operate at Accademia Galli. Their aim is to provide advice and support as required, deal with requests and submit proposals to the Academic Council as far as teaching and student services are concerned. A range of different cultural and project-related activities may also be put forward.
It promotes student well-being as part of an inclusive, supportive and non-judging atmosphere. It is a place where study problems are shared and addressed with a view to working out solutions. Each student is offered up to three listening and discussion sessions and a follow-up meeting free of charge. The service is run by a consultant clinical psychologist registered in the Register of Psychologists of the Lombardy Regional Government.
For students with SLD or other learning disorders.
An agreement is in place with the Library of the Silk Factory - I.S.I.S. Paolo Carcano, in Como, Via Castelnuovo 3. The list of books available for loan and consultation consists of more than 1,000 titles and is provided to students at the beginning of the academic year.
The rooms at the Library are accessible to all members of the Academy on presentation of valid ID. For the academic year 2021/2022 the annual library card was provided free of charge to all Academy students and lecturers.
Free access via reserved area on IED Campus to the following resources:
Art, design & architecture collection: collection consisting of different art, design and architecture databases with full text access to specific articles.
Avery Index to architectural periodicals: includes a large list of articles on architecture, interior design, urban planning and more, published by well-known specialist magazines such as Domus, El Croquis, Abitare, Architectural record, Casabella, Arca, Architectural digest, Frame, Interni, and so on.
The Vogue Italia Archive: full text access with high-resolution images from the first issue published in 1964 to the present day. Each page is reproduced in colour with rich indexing that allows images to be searched by type of garment, designer or brand. In addition to publishing content, all covers, advertisements and pictorial features are captured as separate documents, indexed, searchable and viewable in high resolution.
The Vogue Archive USA: full text access with high-resolution images from the first issue published in 1892 to the present day. About 450,000 indexed pages can be searched and filtered with the same search features as The Vogue Italia Archive, described above
All computers available at the Academy provide free access to WGSN, the world's leading platform for strategic style information and trend forecasting. Access allows high-resolution downloads of a variety of content, from daily trends to market research, from iconographic research and trend galleries to streetstyle and graphics.
This is a partnership that allows students to access a database of innovative materials from on-site computers, containing more than 5,000 sheets with images, extensive descriptions, physical and performance specifications, eco-compatibility and contact details of manufacturers and distributors. The agreement also provides the opportunity to visit the library in Milan, which consists of more than 2500 material samples.
Statistics on education, sportswear, fast food, virtual reality, smartphones, Google, Instagram, coffee, market share, e-commerce, GDP, Netflix.
An agreement is in place with ENAIP Foundation in Como to use their EDUCATIONAL RESTAURANT WORKSHOP. For students, lecturers and staff of Accademia Galli, it is possible to use the Educational Restaurant Workshop of the ENAIP Foundation, available two or three times a week on days set by the Foundation itself, subject to prior booking of the service.
The ENAIP Foundation is located at Via Dante Alighieri 127, about 100 metres away from the Academy.
The Academy works with leading software houses to offer students tailor-made training packages suited to their needs and provide them with the most advanced working tools. With the help of Adobe, a Design & Web Collection package is available for use at the school labs as well as on one's own personal computer. Upon completion, students can take out an annual Creative Cloud Membership for professional use of the same software package at a favourable rate. This package includes Photoshop, Illustrator, InDesign, Dreamweaver, Flash Professional, After Effects, Premiere, FrameMaker and Acrobat. Students are also entitled to download Autodesk (3D Max, Autocad, Maya) and Microsoft (Word, Excel, Power Point, Outlook, One Note, Access, Publisher) software free of charge.
Students can access remotely the computers available in the labs of the Academy to use all the applications installed on them. This service is particularly useful under exceptional situations (e.g. isolation for COVID19) for students to access programs that cannot be downloaded onto individual PCs while attending lessons.