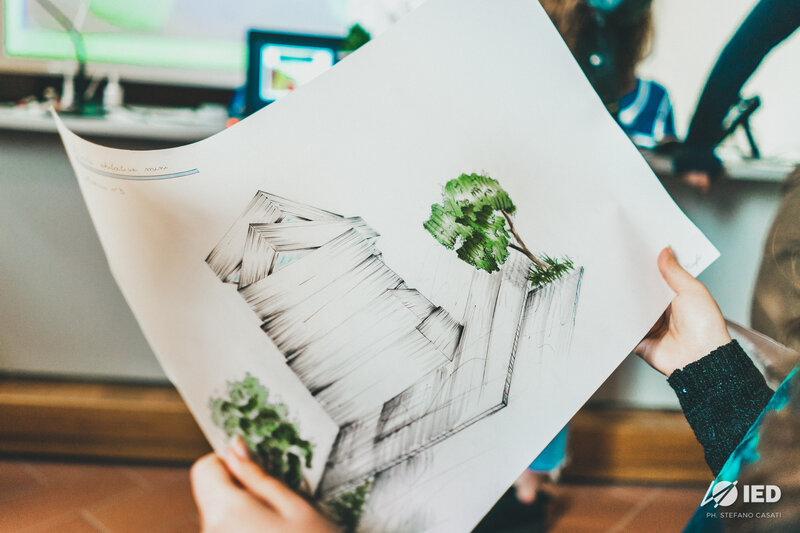 Academic Foundation Year - Italian Creativity & Design
Foundation Courses
The Academic Foundation in Italian Creativity & Design is designed for international and national students
The Academic Foundation in Italian Creativity & Design is designed for international and national students that are interested to obtain a First Level Academic Diploma but do not reach the minimum requirements, such as 12 years of schooling or previous knowledge about the creative and artistic sectors. The teaching methodology consists of practical, theoretical and demonstrative lectures, visiting and individual coaching/orientation meetings. The course has a blended format: the theoretical part will run online from November to January, while the practical part takes place onsite from February to June.

The students will learn the basics of Photoshop, Illustrator and Indesign, the main concepts about the history and the expressive languages of arts, design, fashion and visual arts. Eventually, they will study the Italian language to reach the B1 level.
Completing the course guarantees the access to the first year of the Undergraduate courses of the Accademia Aldo Galli and of the IED Italia network.
For the five years course in Restoration an admission test is required.
The course includes training experiences based on: theoretical introductory modules on the history of art, design and fashion (cultural studies); practical experimentation of methodologies through workshops and thematically oriented laboratories, dedicated to the fields of study such as visual arts, design and fashion, and to the acquisition of basic skills and languages; a module dedicated to learning the basic tools of the Photoshop, Illustrator and In design software; teaching modules for learning the Italian language with additional cultural activities; individual coaching and orientation meetings with a dedicated tutor.
This course is designed for international students with less than 12 years of education who want to obtain the necessary requirements to enrol in a Bachelor of Arts three-year course, as well as to anyone with no previous education in the creative and artistic fields. Students must also have a knowledge of English language corresponding to level B1, they must provide us with a certificate or held a skype interview. Possession of a minimum A2 level of Italian is highly recommended.
Phase 1
Intensive linguistic phase (November/June) consisting of intensive modules of Italian language and culture, running both online and in presence / two evaluation tests of level B1 and B2.
Phase 2
Preliminary phase (February/June): Cultural Studies module (delivered in English) / computer modules (Photoshop, Illustrator, Indesign, delivered in English).
Phase 3
Experiential phase (March/June): workshops and project laboratories, coaching and orientation (delivered in Italian).